Backcountry ski equipment for kids
Following my first article about backcountry skiing  with kids, I still receive a lot of questions about it, especially the equipment the girls are using.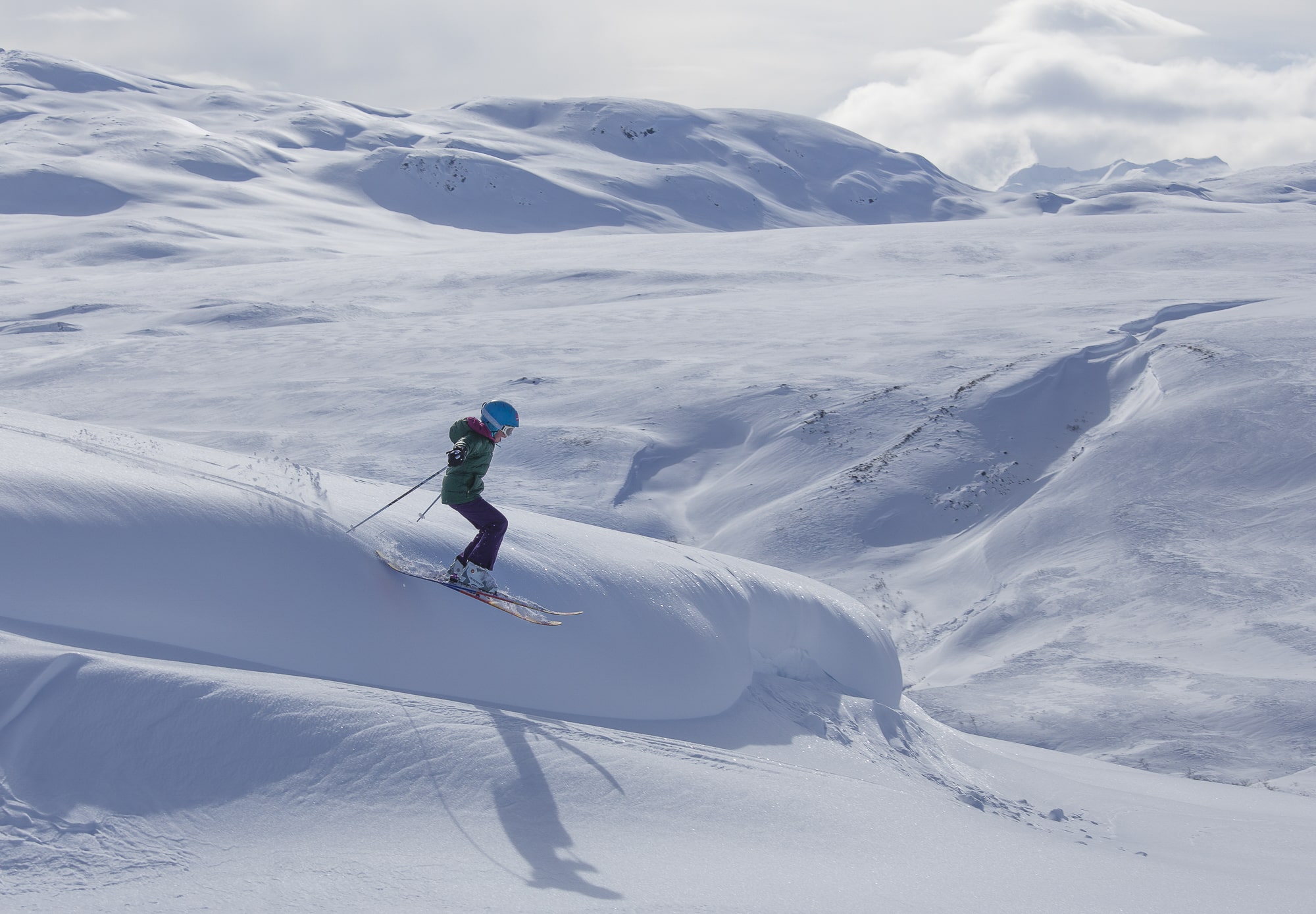 A good setting for kids does not only increase the fun…but also the safety.
I've been backcountry skiing since the 80s and professionaly in 1992. Since, I had time to see the evolution of the equipment. It's amazing to see the improvements of boots, bindings and skis. It's incredible how light our equipment is now compared to what it was 30 years ago. Also, boots and bindings ares way less complicated to use and way more reliable. I had my kids starting backcountry skiing when they were around 6 and 7 years old, on regular skis, regular ski boots and adapters or customized bindings.Based on my experience and how my kids reacted to the different models they tried. We will try to give you an objective review of what we used and what we're using for now.
Yes, backcountry ski equipment is expensive, especially for young kids who are growing fast and need to change gears almost every year. The good thing is, the activity is growing, so used pieces of equipment are more common … and of course, easy to sell.Nowadays, backcountry skiing is booming. Every brand has invested in this segment of the ski industry and we have now a few options for kids. Because the equipment is pricey, we have opted to have one equipment that we use both for backcountry and at the resorts.
Ski boots

Boots are probably the most important piece of equipment in backcountry skiing. Comfort and mobility are the keys, as well as safety and, it will dictate your options for bindings (if they're compatible with pin bindings or not, most of the new boots are compatible, but if you shop for used ones, you might still find old models not compatible with pin tech bindings.In the last 8 years, we had the chance to test quite a few, from regular ski boots to high tec light touring boots. For the second winter now, both girls are skiing with Fisher MyTravers. They love them. At 1080 gr the boots are light. But the most important, they're comfortable and very easy to step in, especially for us in a cold climate. The Boa system makes them very easy to adjust. Switching from walk to ski mode is super easy with only one little lever to manœuvre. All the buckles and adjustment can be done with mitts, after years of practice, we realize how important it is for us.It is never really fun to start the day with cold fingers.The liner is comfortable and warm. The range of motion in walk mode is 80 degrees, which make them very comfortable when skinning up. They're not the stiffest boots, but for little girls they're perfect and rigid enough even to ski at the ski hill on hard groomed snow.
Prior to the Fisher, the little one had Scarpa's F1, they were great and she liked them. Super light boots, very comfortable and with a huge range of motion in walk mode and not too bad to operate. Switching from walk to ski mode is less easy than with the Fisher but still easy. They're a bit pricey [we got a great deal though] and they were not super easy to find in small size.
We also had Dynafit TLT 6 women, we kept them just a few months, they're nice, warm, light and comfortable. But, the ergonomy is awful. It always took long minutes to put them on and it was painful with so many layers of plastic. Buckles were impossible to handle with gloves, we always had to assist the girls to put them on and they were frustrated.
Our set-up, ZAG SLAP team and PLUM Guide XS, the perfect balance between light weight and versatility.  As good in the backcountry as at the ski hill.
Bindings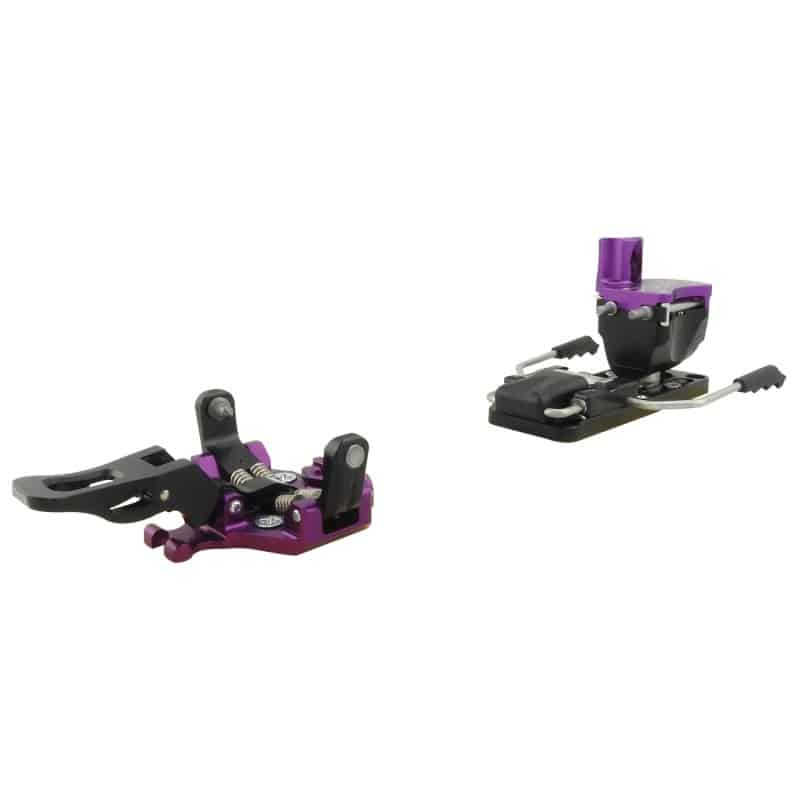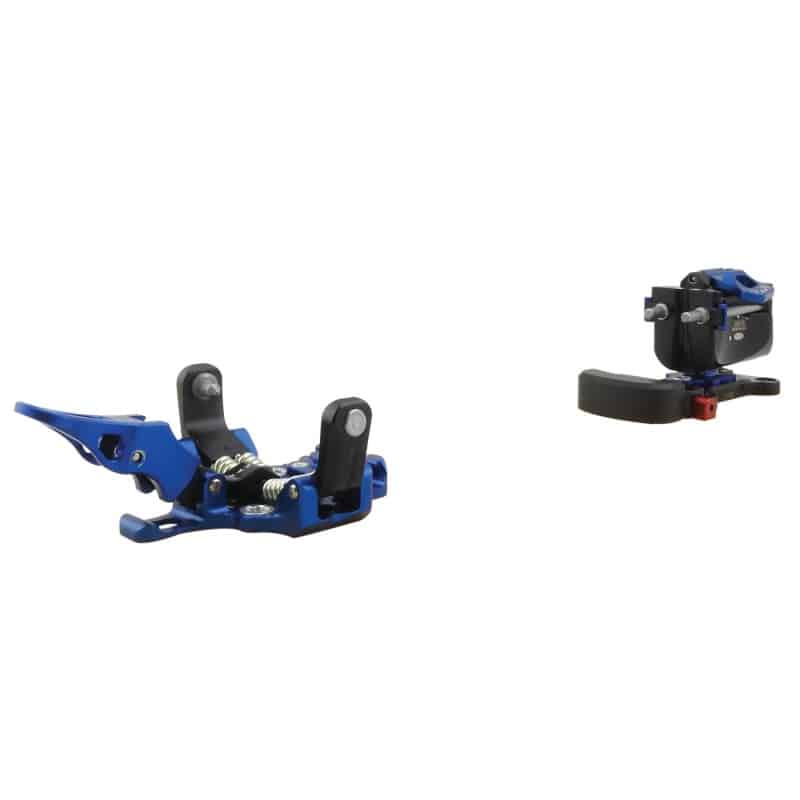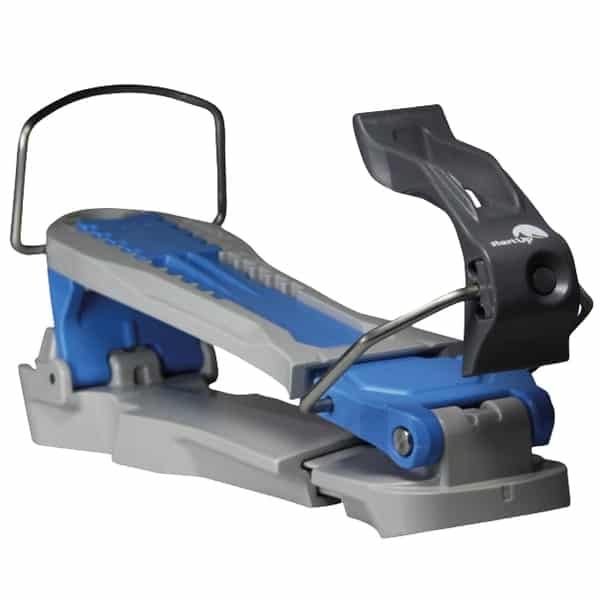 Left to right, Plum Guide 7, Plum PIKA, CAMP  adapter.
When we started, we used the Camp kids touring adapters.  It wasn't a very expensive investment. They were easy to use, but touring with regular ski boots and regular binding wasn't easy, the set-up was heavy for kids and not very comfortable. But it was good for the discovery and occasional use. We also used self modified Silvretta's bindings. It worked great and was safe but the foot was sitting way too high on the skis making it very uncomfortable.
It was a game changer when we were able to find tec binding compatible boots and to use tec bindings. The gain of weight and the ease of use was very appreciated by the girls. They saved so much energy, it made them appreciate backcountry skiing even more. The first brand to have low DIN release was PLUM with the Guide XS starting as low as 3.5 with the possibility to go as low as 1.5. Today, my oldest one uses the PLUM Pika, an even lighter and still very easy to use tec binding. My girls like the weight, the look of the PLUM XS with very sexy colours available. I like the reliability and ease of use.
Pros: light, easy to use, reliable. They last long and very good resale value.
Cons, the price is high and just like all tec bindings, they have to be mounted and set up perfectly by a professional in order to perform well.
Skis
There are a few kids models on the market for touring now. For us, our favourite for years now, is the ZAG SLAP team. Six years ago, it was one of the first freeride skis specially designed for kids. It has been our favourite option since then,  Several reasons oriented us to this model:
First, the SLAP allows us o use them both in the backcountry or at the ski hill.  Second, the weight is adapted to kids with 1.2 Kg in 147 cm for 94 underfoot, it's very reasonable. The size range goes from 137 to 165 cm.] Then, the most important, the skiability is amazing, especially in deep snow you might encounter in the backcountry. The flotability is perfect and make it so easy for the kids. I remember the first turn with the Slap for my oldest daughter. Both girls had a similar level at this time. But, the day she tried the Slap, she was so surprised, it was so easy on the ungroomed snow, her sister wasn't able to catch up with her and was very frustrated.
With a double rocker and twin tips, these skis are forgiving and easy to handle they leave your kid in control at all times. They also perform very well in resorts on groomed slopes where the girl can carve easily with a good stability. Like adult skis, the 5-point shape allows riding an ultra-playful ski! Girls truly enjoy themselves on these skis.
Pros: easy to handle, light, playful, great in the powder.
Cons: not very stable at high speed on groomed or hard snow, but they are not built to race on packed snow.
Nothing is better than enjoying your favorite activity with your loved ones. Have a look to this page : Backcountry Skiing with kids for more info about safety and a few tips on how to start easy.
A little videoclip of our ski adventures.