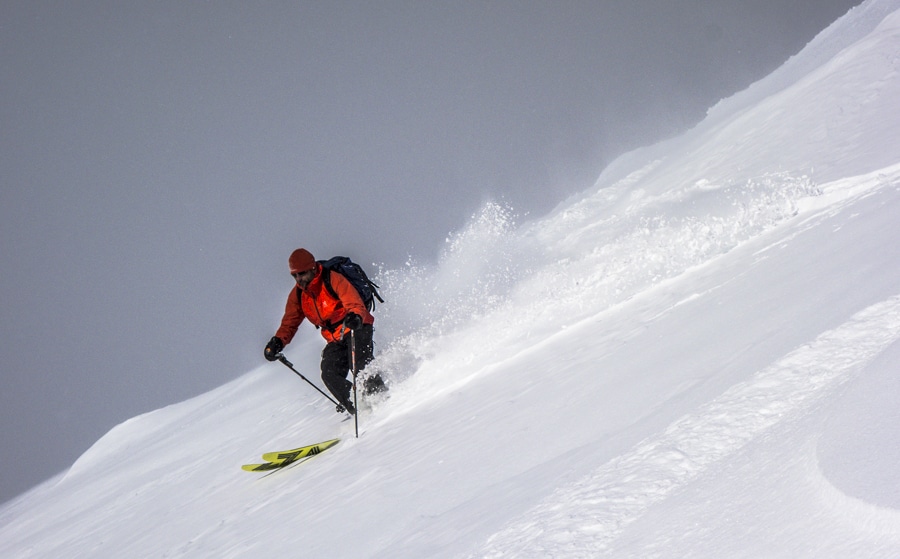 A good day skiing at White Pass today, but be cautious, there are some significant changes in the snowpack.
The weather was not great but not completely bad. We stopped at Log Cabin SE face (Halcyon) because of the good visibility and the minimal exposure to the cold N wind, we even got a bit of sun. temp was -14c without the wind.
The area received a bit of fresh snow during the last hours but also a noticeable cold north wind. Below the treeline, in sheltered area, there was between 10 to 20cm of fresh snow on a hard snow base.
As you climb up, the snow is getting  denser and affected by the wind, with obvious windslab formation.  Quick tests showed a very sensitive upper snowpack with a very reactive layer (in some places it was about surface hoar)
We have noticed a lot of signs of instability with fairly important to important propagation. Route finding was the key of a safe trip.
We remotely triggered a few slabs (size 1).
Skiing was good to very good in the fresh snow but the key was to be able to find a safe route.
On the way down I tested a slope I suspected to be nicely loaded, I got a nice result with a good size 2 wich remotely triggered a few size one as well.
So, if you plan to get out the next days, be aware of these tricky surface hoar layer with windslabs on top of it…just a perfect cocktail.
When we left the north wind was blowing harder with a bit more snow transport.
Have fun and ski safe.
A little slab remotely triggered from the bottom of the lip.
.
And a  nice result after a good ski cut test.
.
.
A good size 2
.