Books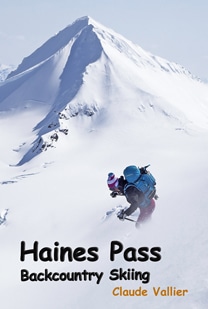 The first guide book for the Haines Pass area. More than 60 routes with over 200 pictures. A wide selection of the best slopes in the area and the access to the main peaks. From easy runs to challenging couloirs. This guide book will become your best companion to ski in the Chilkat Pass area.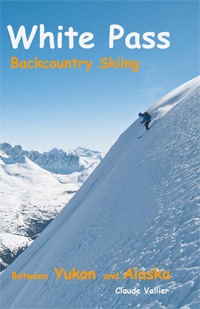 The first guide book to backcountry skiing in the White Pass.
Detailed descriptions and route information, for alpine touring skiers, telemarkers and snowboarders.
The perfect tool for preparing your ski trip.
You will find everything you need to know before putting your skis on.
About

"Easy and quick access from Whitehorse and Skagway; the White Pass area offers an amazing terrain and great conditions for ski touring.
160 pages with more than 50 routes and 180 pictures, this is the first guide book for skiing in the Yukon. For skiers, telemarkers or snowboarders, from beginners to experts, you will find in this book a wide choice of routes for every kind of level.
Detailed descriptions of every ascent and descent listed in this book. Listing: access, starting point, difficulty, risks and hazards. Everything you should know before planning your ski trip. All about: the safety, the equipment, area descriptions and specifications, as well as useful links and resources.
Coming from a small village in the French Alps, I had started skiing when I was a year a half old and never stopped. I have spent the last three years exploring the mountains in this area. As a skier, snowboarder and alpinist, I have 25 years experience with alpine touring.
This book will help you organize your trip for the maximum amount of fun.
Contact me : skiyukon@hotmail.com
Sample PDF pages